Miami-Dade Aviation Department
Miami International Airport
Division of Fine Arts & Cultural Affairs
Presents
MIA Flower Fence, 2011
Artist: Roberto Juarez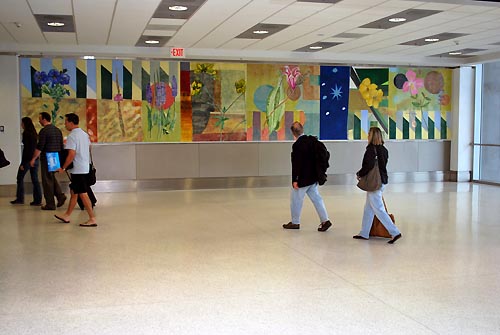 Inspired by the lush landscape and indigenous traditions of Florida, MIA Flower Fence juxtaposes botanical style renderings of Florida wildflowers with geometric patchwork designs of the Miccosukee Tribe of Indians of Florida. A glimpse of Miami's clear skies and starry nights celebrates the splendor of Florida's tropical climate and blossoming gifts of nature.
MIA Flower Fence is a site specific mural by American painter and printmaker, Roberto Juarez,(b. 1952, Chicago, IL). Juarez's work is in the collections of the Los Angeles County Museum of Art, Los Angeles, CA; Denver Art Museum, Denver, CO; Miami Art Museum, Miami, FL; Museum of Contemporary Art, North Miami, FL; Brooklyn Museum of Art, Brooklyn, NY; and the Metropolitan Museum of Art, New York, NY.
Co-fabricators: Mark Tambella and Nicholas Freberg Morgan



Located near gate D-17, Skytrain station #1 landing
For more information on this exhibition, please contact the Miami-Dade Aviation Department's
Division of Fine Arts and Cultural Affairs at 305-876-0749.

Site Specific Projects