Miami-Dade Aviation Department
Miami International Airport
Division of Fine Arts & Cultural Affairs

Presents
Meltdown, 2014
Artist: Jen Stark
Jen Stark's artwork concentrates on the hypnotic, time-intensive process of cutting and layering. The patterns she creates mimic the repetitive intricate layers of plants as well as the geometric framework of the universe. Stark is also interested in the juxtaposition of contrasting colors and repetition, and creating patterns that give the impression of movement and vibration. Her work frequently explores ideas of replication and infinity, echoing patterns and intelligent designs found in nature.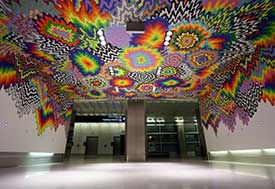 Photo: Peter Vahan
For this Miami International Airport commission Jen Stark created "Meltdown", a large scale mural depicting organic patterns oozing down, creating a waterfall of colors.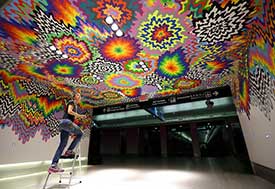 Photo: Peter Vahan



Located North Terminal, 3rd floor entrance from the MIA Mover
For more information on this exhibition, please contact the Miami-Dade Aviation Department's
Division of Fine Arts and Cultural Affairs at 305-876-0749.

Site Specific Projects