Site Specific Projects - South Terminal - Club J
Miami-Dade Aviation Department
Miami International Airport
Division of Fine Arts & Cultural Affairs

Presents
A Delicate Balance
Artist: Karen Rifas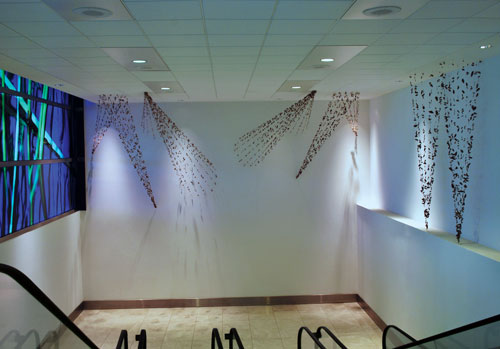 Karen Rifas received her MFA from the University of Miami and resides in a Miami home surrounded by Florida Live Oak trees. She collected the leaves which she then stitched into strands used to create this site-specific installation.
Certain themes and concerns continually surface in her work. Generally, they reflect her thoughts about the delicate and precarious balance which she finds in life and in nature and between structure and freedom. Her installations are also about process and discovery...discovering and utilizing the unique potential of a particular site or taking ordinary materials and rearranging them into new contexts. Other installations are executed in silk cord as well as stainless steel cable.
Rifas has an extensive exhibition record in Brazil, Republic of Panama, Chile, Mexico, Dominican Republic, Puerto Rico, New York, Ohio, Illinois, North Carolina, Georgia and Florida. She has been awarded Florida Visual Arts and South Florida Cultural Consortium fellowships and her work is in the collections of Miami Art Museum, Museum of Contemporary Art, North Miami, Museum of Art, Ft. Lauderdale, and Museo de Arte de Ponce, Puerto Rico.



Located in Club J
For more information on this exhibition, please contact the Miami-Dade Aviation Department's
Division of Fine Arts and Cultural Affairs at 305-876-0749.