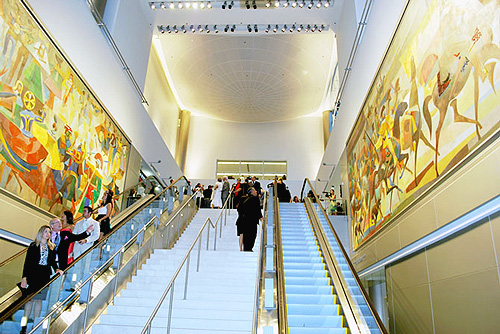 Carybé Murals - South Terminal - Photo by Miami-Dade Aviation Dpt.
Hector Julio Paride Bernabo - Carybé


, level 2
Open to the public June 2009
American Airlines, Odebrecht and the Miami-Dade Aviation Department have partnered to bring a Latin American art treasure to Miami International Airport. The partnership will result in one of the most important contributions to Miami-Dade County, bringing the art of Brazilian artist Carybé to the Gateway of the Americas.

The Carybé murals, two of the most iconic public artworks in the U.S. aviation sector, had been on display in the American Airlines terminal at JFK Airport in New York. Originally installed in 1960, the murals were the result of a competition in which Carybé won first and second prizes. Massive in their scale, the site-specific works for the JFK Terminal were 16.5 x 53 feet each.
After learning about the demolition of the terminal, Odebrecht, a Brazilian company with strong ties to Carybé, began an initiative to salvage the artist's murals through a partnership with American Airlines.

American Airlines has donated the murals to Miami-Dade County and Odebrecht has invested in a project to remove, restore, transport and install the murals at Miami International Airport. When conservators in New York complete the restoration process in 2009, the murals will be on permanent display at MIA's new South Terminal, built by Odebrecht in a joint venture.
Reflecting Miami's diverse culture, Carybé's art in many ways captures the city's multi-ethnic flavor. His art is infused with the vibrant colors, rich culture and mystic religious traditions of Bahia, Brazil.
Carybé's celebration of life and respect for cultural diversity are qualities he shares with the Miami community, making MIA the perfect home for his murals.
For more information, please contact the Division of Fine Arts and Cultural Affairs at 305-876-0749.
View a brief video on the relocation and restoration of the Carybé murals.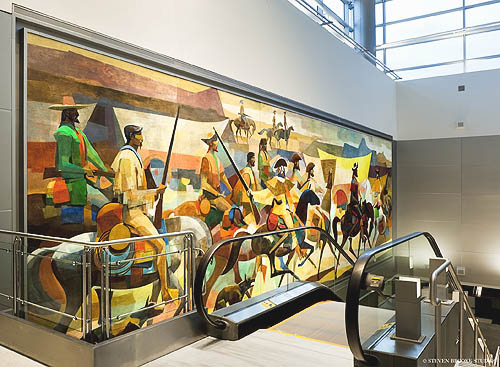 A casual conversation between an airport skycap and a passenger heading home to Brazil ended up saving an art treasure from the trash.
Maybe you remember the two giant, colorful murals in the east concourse of the old American Airlines terminal at JFK airport in New York. Created by Brazilian artist Carybé, who won both first and second prize in a 1959 contest to create art for the terminal, the murals explore two very different themes of the Americas.

The darker Discovery and Settlement of the West depicts the pioneers' journey to the American West. The more colorful Rejoicing and Festivals of the Americas portrays scenes from popular folkloric celebrations held throughout North, Central and South America and includes a Seminole Indian, a cowboy, a jazz musician and other characters in representational dress. When announcing why they'd chosen these Carybé works, the architects for the JFK building said that "too many of our present day buildings are dull, monotonous, lacking in warmth, joy, gaiety." They liked the artist's imagination and use of colors.

The murals had been part of the terminal since 1960, and at 17 feet tall and more than 50 feet long each, they were hard to miss. They were also hard to care for. Over the years, the colors faded, objects the artist embedded in the pieces fell off, and layers of grime and bird droppings accumulated. So when it came time to demolish the terminal and build a new one, the plan was just to leave the site-specific murals behind and allow them to get torn down and destroyed with the building. Continue
Site Specific Projects