Did someone make a difference in your travel experience?
If any airport employee went above and beyond his or her call of duty to assist you or anyone you know, you can nominate them for exceptional customer service through MIA's Reward & Recognition (R&R) program. To nominate someone, e-mail us, fill a R&R nomination form or call 305-876-7724.
Reward & Recognition Winners - 2015
| | | |
| --- | --- | --- |
| January | February | March |
| | | |
| April | May | June |
| | | |
| July | August | September |
| | | |
| October | November | December |
| | | |
MIA's R&R winners: 2015 | 2014 | 2013 | 2012 | 2011 | 2010 | 2009 | 2008 | 2007 |
MIA NAMES BRITISH AIRWAYS DUTY MANAGER SANDRA MARTIN EMPLOYEE OF THE YEAR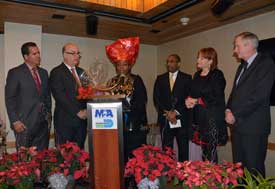 L – R: Rolando Aedo, Exec. VP Greater Miami Convention & Visitors Bureau (GMCVB); Emilio T. Gonzalez, Dir MDAD; Sandra Martin, BA; Ian Blackman, VP Customer Service BA; Diane Coyle, BA Station Manager; Ken Pyatt, Deputy Dir. MDAD
(Miami, December 18, 2014) – British Airways Duty Manager Sandra Martin was named Miami International Airport's Employee of the Year at the airport's Annual Rewards and Recognition Year-End Gala yesterday for assisting a non-English speaking, elderly female passenger who was stranded at MIA en route from Columbus, Ohio, to her home in Accra, Ghana. Martin went as far as to stay with the elderly passenger overnight in the airport chapel when hotel accommodations could not be obtained. "The compassion shown by Mrs. Martin to this passenger exemplifies the dedication to public and customer service we want all of our 40 million passengers to experience," said Mayor Carlos A. Gimenez. "It gives me great pleasure to thank and congratulate Sandra on this well-deserved honor."
In February, the elderly passenger was in MIA en-route to her home in Accra, Ghana through London, England. Upon her arrival at MIA, she discovered that she had lost her passport containing her entry visa and that she would not be allowed to continue to London. To complicate matters further, she did not speak nor understand English, and no one immediately spoke nor understood her Ghanaian native dialect.

When Martin learned of the situation, she was able to contact the passenger's son and explained that his mother would have to return to Ohio. The next available flight, however, was not until the next day. Martin tried but was unable to find a hotel room for the passenger. She then requested that MIA security open the airport chapel and allow the passenger and her to spend the night there, and she also purchased food for the passenger. In Martin's own words at the time, the passenger "reminds me so much of my own mother and I cannot bear leaving her alone to fend for herself."

The next day, Martin took the passenger to the American Airlines ticket counter, booked her ticket and checked her luggage on the morning flight to Columbus. Martin continually updated the passenger's son and also made sure that airport police escorted the passenger to her flight.

"Sandra's actions in assisting this elderly woman embody the MIA customer service philosophy that each traveler should be cared for as if they were your own family," said Miami-Dade Aviation Director Emilio T. González. "While all of our Employee of the Year nominees are outstanding in their own right, Sandra certainly went far above and beyond the call of duty and we are proud to name her our Employee of the Year."

In addition to being a 24-year veteran with British Airways, Martin is the matriarch of three children and three grandchildren. Her manager Diane Coyle says about her, "Her strength is amazing."

As Employee of the Year, Martin was recognized with a stay at a local luxury hotel courtesy of the Greater Miami Convention and Visitors Bureau.
# # #
Miami International Airport offers more flights to Latin America and the Caribbean than any other U.S. airport, is America's second-busiest airport for international passengers, boasts a lineup of 100 air carriers and is the top U.S. airport for international freight. MIA is also the leading economic engine for Miami-Dade County and the state of Florida, generating business revenue of $33.5 billion annually and welcoming 70 percent of all international visitors to Florida. MIA's vision is to grow from a recognized hemispheric hub to a global airport of choice that offers customers a world-class experience and an expanded route network with direct passenger and cargo access to all world regions.
MIA's R&R winners: 2015 | 2014 | 2013 | 2012 | 2011 | 2010 | 2009 | 2008 | 2007 |