Flight Connections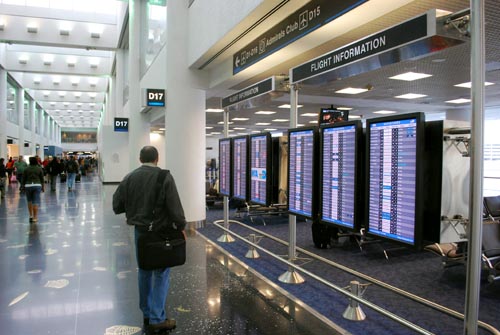 Connecting Flights at MIA:

- Exit at level 1
- Exit at level 3
Baggage Claim during Connections:
International flights connecting to US destinations - claim luggage before clearing U.S. Customs.

International arriving passengers must claim their luggage before clearing U.S. Customs. Some airlines check bags directly from international city of origin to international final destinations (ITI). Please contact your airline for more information about ITI bags.

Domestic flights connecting to international destinations - confirm with your airline that your luggage was checked directly to your final destination.
Skyride Connector (moving walkways):






(view map)
All three terminals and concourses are connected via a Skyride Connector (moving walkways) located on the 3rd level of each terminal.
Allow 15 minutes to move between South / North Terminals. Review additional information about screening checkpoints.
Use Skyride to connect to:
North Terminal - Concourse D Skytrain:
Concourse D skytrain whisks passengers off their feet from one end of the mile-long facility to the other for quick connections to everything from flights and baggage claim to stores, restaurants and passport control.

The skytrain people mover system features stations at four main areas of Concourse D. A ride on the skytrain can take you from: station #1 near Gate D-17 at the easternmost end of Concourse D to station #2 for domestic baggage claim; continue to station #3 for connecting flights at gates D-26 to D-39, passport control for international travelers or exits to Central and South Terminal; or carry you all the way to station #4 for gates D-40 to D-60 and American Eagle flights at the new Regional Commuter Facility - all within five minutes. View skytrain map.
For information or assistance while at MIA, pick up one of our 24 hour white courtesy phones or visit our Tourist Information Center at the


, 2nd level, from 6 a.m. to 10 p.m. Please keep these tips in mind as you plan your trips and when you arrive at the airport. If we work together we can make the system safe and effective for every traveler. Your safety and security is our number one priority. For additional information you may call us at 305-876-7000 or contact us.