Departures at MIA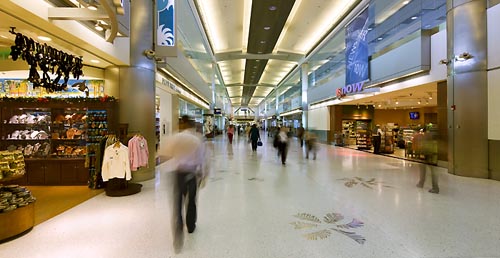 View of MIA's North Terminal, Concourse D - Photo by Heery S&G - Visit MIA's Shopping and Dining directory

Prior to Getting to the Airport
If you are departing from Miami International Airport (MIA), please call ahead to your airline to confirm your flight and departure time, concourse and gate. You can also view MIA's Flight Departure Information (real time) or Flight Tracker (real time).
Curbside Parking Restrictions
Curbside parking in front of the terminal is restricted to vehicles that are actually loading or unloading. Due to TSA Security Regulations, all vehicles left unattended at the curbside will be towed at the owner's expense. Please do not leave your vehicle unattended. View all MIA's parking options.
Parking Garages and Moving Walkways
Use Skyride on the 3rd level to connect between terminals, parking garages and MIA Mover Station. If you are parking in the Dolphin North and Flamingo South garages, airlines in concourses D-E are closer to the Dolphin North Garage and airlines in concourses F-H are closer to the Flamingo South Garage. View where to park closest to your airline.

Prior to getting on the elevator, stamp your parking ticket. The information stamped (garage name, level and aisle) will help you find your car upon your return. There are also terminal maps displayed along the skybridges and moving walkways to show you the location of your airline. View all MIA's parking options.
International Departures
If you are departing on an international flight, be sure and arrive at least two hours early. You might want to check with U.S. Customs' ''Know Before You Go'' information.
Traveling Today
CDC Travel Health Notice