Did someone make a difference in your travel experience?
If any airport employee went above and beyond his or her call of duty to assist you or anyone you know, you can nominate them for exceptional customer service through MIA's Reward & Recognition (R&R) program. To nominate someone, e-mail us, fill a R&R nomination form or call 305-876-7724.
Reward & Recognition Winners - 2016
| | | |
| --- | --- | --- |
| January | February | March |
| | | |
| April | May | June |
| | | |
| July | August | September |
| | | |
| October | November | December |
| | | |
Meet the R&R 2016 Winners
MIA's R&R winners: 2015 | 2014 | 2013 | 2012 | 2011 | 2010 | 2009 | 2008 | 2007 |
MIA NAMES CBP OFFICERS AS EMPLOYEES OF THE YEAR
FOR SAVING A PASSENGER'S LIFE
From left) Greater Miami Convention and Visitors Bureau President & CEO William D. Talbert III; MDAD Chief of Staff Joe Napoli; CBP Officers Henry Ulrich and Andrew Checchia; Alberto Núñez Gutiérrez; Cresencia Gutiérrez; CBP Officers Johán Candelaria and Jairón González; and MDAD Deputy Director Ken Pyatt. (Second image) CBP Officers Henry Ulrich and Johán Candelaria; Miami-Dade Aviation Director Emilio T. González; CBP Officers Johán Candelaria and Andrew Checchia. Hi-res images available upon request.
(MIAMI, December 16, 2016) – Four Customs and Border Protection (CBP) officers have been named Miami International Airport's 2016 Employees of the Year for saving a passenger's life in July, after he suffered a heart attack and collapsed upon arriving at MIA from Cuba. The 65-year-old heart attack survivor and Miami resident joined MIA officials at the airport's annual Employee Rewards and Recognition Year-End Gala on December 15 to thank and congratulate the four officers - the first time he had seen them since his near-fatal incident.
"It is always inspiring to see employees at MIA not only carry out their assigned duties, but go above and beyond when necessary to meet the needs of our passengers," said Mayor Carlos A. Giménez. "It gives me great pleasure to congratulate these officers on their life-saving efforts."
On July 19, 2016, the four CBP officers - Johan Candelaria, Andrew Checchia, Jairón González and Henry Ulrich - were working in the passport clearance area of Concourse E when they were notified that passenger Alberto Núñez Gutiérrez had collapsed and was pulseless. The officers performed multiple cycles of CPR on Gutiérrez, who was in full cardiac and respiratory arrest. In addition to CPR, officers tried to resuscitate Gutiérrez with an Automated External Defibrillator (AED). After the arrival of Miami-Dade Fire Rescue (MDFR), the officers continued to assist with performing CPR and managing the scene. Gutiérrez was eventually transported to an area hospital, where he made a full recovery. MDFR noted that the quick action of the CBP employees saved Gutiérrez's life and helped to quicken his recovery.
"Congratulations to our 2016 Employees of the Year, whose actions are a perfect example of the customer service we want all our Miami-Dade County visitors to receive," said Miami-Dade County Commissioner José "Pepe" Diaz, Chairman of the County's Trade and Tourism Committee. "Thanks to their quick response and initiative, Mr. Gutierrez is still with us as a resident in our community."
Miami-Dade Aviation Director Emilio T. González added: "I am extremely proud of these four outstanding CBP officers, who demonstrated the kind of courage and compassion we strive for throughout our workforce. I also want to thank all of our monthly reward and recognition award winners from 2016, who are each customer service superstars in their own right.
"Miami International Airport offers more flights to Latin America and the Caribbean than any other U.S. airport, is America's second-busiest airport for international passengers, boasts a lineup of 100 air carriers and is the top U.S. airport for international freight. MIA, along with its general aviation airports, is also the leading economic engine for Miami-Dade County and the state of Florida, generating business revenue of $33.7 billion annually and welcoming 70 percent of all international visitors to Florida. MIA's vision is to grow from a recognized hemispheric hub to a global airport of choice that offers customers a world-class experience and an expanded route network with direct passenger and cargo access to all world regions. MIA is committed to sustainable practices. Learn more at www.MIAefficiency.com.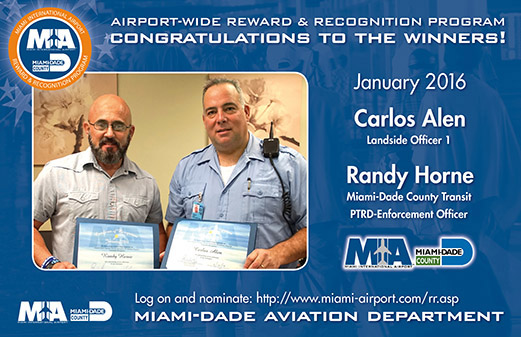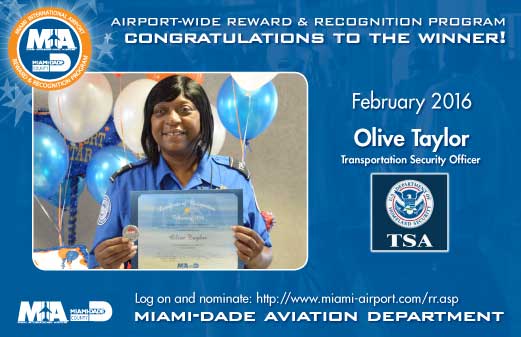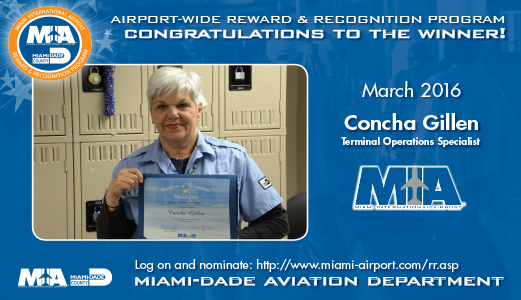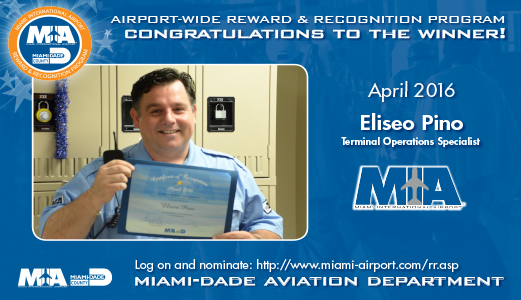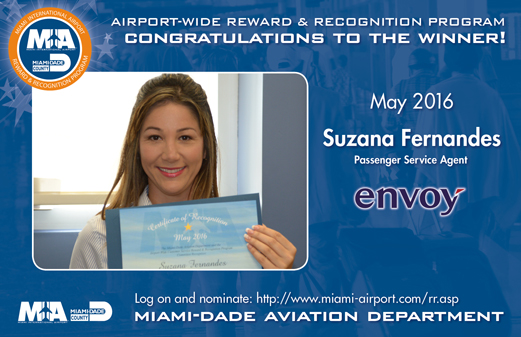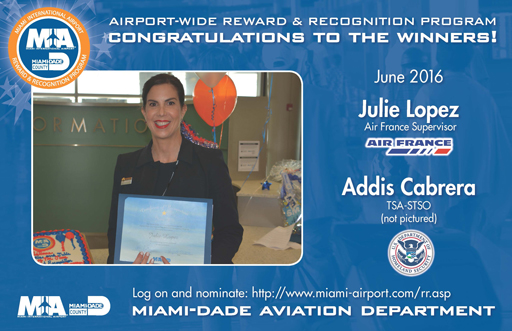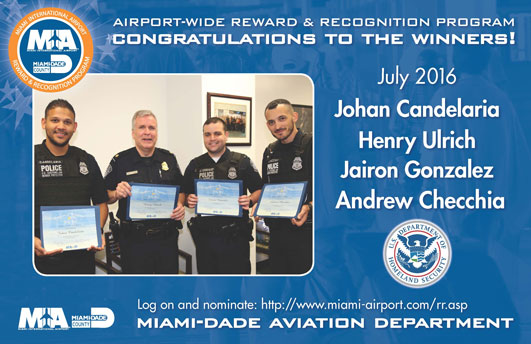 MIA's R&R winners: 2015 | 2014 | 2013 | 2012 | 2011 | 2010 | 2009 | 2008 | 2007 |