MIA Volunteer Ambassador Program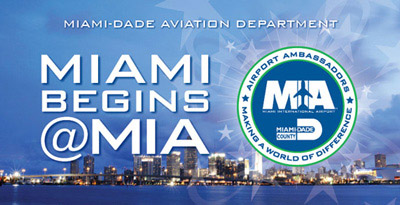 MEET MIA'S VOLUNTEER OF THE YEAR
The Miami experience really does begin at Miami International Airport where millions of passengers arrive each year. You can play a vital role in welcoming visitors to Greater Miami and the beaches as a Volunteer Ambassador.
Must be 21 years or older
Extensive security requirements
Minimum commitment of 4 hours per week, 100 hours per year
Free parking
Free uniforms
Eligibility for airline tickets
Airport discounts
Awards
Flexible schedules
Extensive training

Meet Liz & Casey, MIA's Goodwill Ambassador team
Apply online or download the application form

For additional information contact us by e-mail or by phone at 305-869-1859. Fax your completed application to 305-876-8470.
---
MIA K-9 AMBASSADOR TEAM RECEIVES VOLUNTEERS OF THE YEAR AWARD
The Miami International Airport K-9 Volunteer Ambassador team of Casey, a 69-pound Golden Retriever and trained therapy dog, and her owner Liz Miller, a former local banking executive and Pinecrest resident, has a long list of accomplishments at MIA: More than one year on the job, putting smiles on thousands of passengers' faces while providing customer service assistance; a fan club of adoring travelers from around the world who keep in touch with Casey through their own web site (www.miami-airport.com/casey.asp), email address (casey@miami-airport.com) and business cards; international media exposure; and next Tuesday, an appearance on the Travel Channel reality series "Airport 24/7: Miami." Liz and Casey added another accolade to their resumes when they were named MIA Volunteer Ambassadors of the Year at the airport's annual recognition gala dinner on April 25.
At MIA's Volunteer Ambassador Recognition Gala, from left: Greater Miami Convention and Visitors Bureau President and Chief Executive Officer William D. Talbert III; Volunteer Ambassador of the Year Liz Miller; American Airlines Vice President Marilyn DeVoe; Miami-Dade Aviation Department Director Emilio T. González; and K-9 Volunteer Ambassador Casey.

Liz and Casey were honored from among MIA's 75 volunteers for assisting passengers and providing hugs and comfort to make their travel experience easier. As Volunteer Ambassadors of the Year, Liz will receive two tickets from American Airlines to fly anywhere in the continental U.S., the Caribbean or Mexico, and Casey will receive a gift certificate for a one-day stay at the Totally Dog day camp.

"Liz and Casey have added a special component to our Volunteer Ambassador Program that helps to serve our nearly 40 million annual passengers at MIA," said Miami-Dade Aviation Department Director Emilio T. González. "Having warm, helpful airport ambassadors like Liz and Casey does wonders for passengers during a busy travel day. We congratulate both of them on a job well done."

Press Release

Casey's Webpage

Hi-res Photos for Download
MIA Volunteer Ambassadors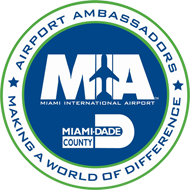 Meet MIA's Winners!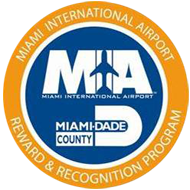 R&R Winners: