What to Do During Layovers
If you have up to 3 hours between flights, you can dine, shop or visit any of the art exhibitions throughout the airport:
Baggage Storage
A Baggage Storage room is available at the

, level 2.
Ground Transportation
The Airport Bus Terminal is located at the Miami Central Station via the MIA Mover. View the public transportation page for bus and rail information, fares and routes.
For additional information, check MIA's Useful Links, Traveling with Children section or the FAQs page
If you have 5 hours or more between flights, you can visit an attraction or a shopping center outside the airport:
Sites below are not operated by the Miami-Dade Aviation Department.

Visitors Information

Greater Miami Conventions Visitors Bureau (GMCVB) and Featured Events - provides information for leisure travelers, group and incentive visitors, tour operators and travel agents, as well as journalists. For further information call visitor information at (888) 76-MIAMI.

City Video Guide -

Florida Everglades
- This best of the Florida Everglades and the 10,000 islands to you. It combines history and geography, with practical maps, fishing and tourism information.

Greater Miami and the Beaches Hotel Association
- provides hotel and motel information for Miami-Dade County. This site has a useful map so you can find selections close to the airport, downtown or on Miami Beach.

The Beacon Council
- Miami-Dade County's Official Economic Development Partnership
In the News:
June 18, 2012

(CNN) -- It's inevitable these days. If you fly, you're going to have to spend a good amount of time at the airport, either waiting to take off or between flights. Thankfully, more and more airports are sympathetic to your situation and are adding unique amenities to help keep you entertained. Of course, you can always whip out your laptop and check your e-mail or stop into the nearest newsstand and pick up the latest James Patterson thriller, but we think you'll find these options a lot more exciting.

MIAMI INTERNATIONAL AIRPORT, Miami, Florida: Need some snuggle time? Casey, a 69-pound golden retriever, strolls though Miami International Airport two days a week with owner Liz Miller, an airport volunteer. The trained therapy dog is outfitted with a "Pet Me" uniform and her own business cards (e-mail her at casey@miami-airport.com). Casey and Liz give passengers directions and generally try to ease the travel experience.

And if you're flying with a pet in tow, you'll want to make note of the growing number of animal relief areas, like those at the Miami airport that feature patches of real grass and a bright yellow fire hydrant. www.miami-airport.com. Continue
January 18, 2011

Airport layovers have always been the most-dreaded part of airline travel. But recent years have seen a slew of airport-management firms transform their facilities into mega-entertainment complexes featuring everything from golf courses and spas to aquariums and butterfly gardens, making a well-chosen stopover a rare win-win in the world of travel. Here's a list of ten airports that give you reason to slow down during transit—or even hope for a delay.

Airport Code: MIA
Chance of Delay: 39.63%
What to Do: As a gateway for routes south, it's no surprise that Miami is stocked with amazing Latino site-specific art projects like the massive and colorful Carybé Murals, while the mobile Andan Volando by Emilio Adan Martinez dangles from the ceiling of the North Terminal. But the Latino food refuses to be upstaged: guava pastelitos from Café La Carreta and café cortaditos and ham and cheese empanadas from Café Versailles are as good as anything you'll find below the equator.
Insider Tip: At this writing, a massive renovation is scheduled to be complete in October 2011, but the brand new skytrain is already transporting passengers throughout Concourse D. Continue
Carybe at MIA (South Terminal)
A new home for historic and vibrant murals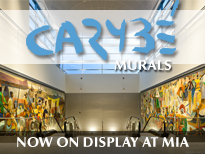 Yolanda Sanchez, Director of Fine Arts and Cultural Affairs at MIA, tells County Connection host Kevin Wynn how a pair of vibrant artworks -- two murals by Brazilian artist Carybé -- came to MIA and found a new home! View video: Carybé at MIA - Time: 5:22