Pick Up / Drop Off Areas - Where to Park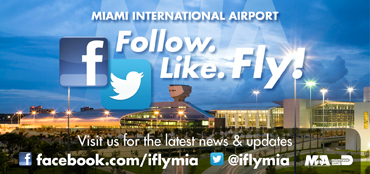 Get the latest news and updates about MIA from the airport's official social media channels
by liking MIA on

Facebook (
Facebook.com/iflymia
) and following on

Twitter (
Twitter.com/iflymia
).


Aeroflot
airberlin
Cayman Airways
Iberia
InselAir
InselAir Aruba
Interjet
Surinam Airways
WestJet

British Airways
BoA
SunCountryAirlines
Virgin Atlantic
XLAirways France


ArkeFly
Avior Airlines
Jetairfly
Miami Air
SBA Airlines
Swift Air
TAP Potugal
Transaero
World Atlantic
Airlines

Aeromexico
Air France
Alitalia
Bahamasair
Canadian North
Delta
LAN
Lufthansa
United

Aerolineas Argentinas
Air Canada
Air Europa
Avianca
Caribbean Airlines
COPA Airlines
GOL
IBC Airways
(level 1)
Swiss
TAM
Parking Options at MIA
Valet offers closest parking at MIA, starting at $18 with no hidden charges or fees. Valet parking available in Dolphin and Flamingo garages, departure level. It makes sense to park at MIA!