Travelers at Miami International Airport can now visit select travel-related websites at no charge while in the airport through a new Wi-Fi service provided by the Miami-Dade Aviation Department (MDAD). Access to websites for airlines, hotels, rental car companies, the Greater Miami Convention and Visitors Bureau, MIA Airport and Miami-Dade County are now complimentary through MIA's WiFi network portal.
The new service offers greater online access to MIA passengers who need to make adjustments to their travel arrangements or need information regarding local tourist attractions.
---
Terminals





Wi-Fi service is available using the MIA-WiFi Network throughout all indoor public areas of Miami International Airport including the main terminal, departure gates, baggage claim, and the Miami International Airport Hotel.
Cost
Create an account and pay by credit card when you attempt to connect to the Internet through your web browser. American Express, Discover, MasterCard, and Visa are accepted.
$4.95 - first 30 minutes
$7.95 - 24 continuous hours
Access is also available to subscribers of roaming partners including Boingo, iPass and TMobile and their respective partners at no additional fee.
To connect to the Miami International Airport Wi-Fi Network
Insert or activate your Wi-Fi adapter (802.11b or 802.11g) in your computer and connect to the "MIA-WiFi" network if your computer does not do so automatically. Then, launch your web browser and you should automatically see the Wireless Internet Access welcome page. If you do not see the welcome page, try refreshing or closing then reopening your browser.
Terminals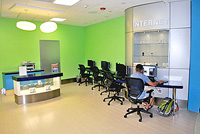 Located past security between concourses H and J, the International Currency Exchange (ICE) Business Center offers:
5 computers with internet access
Printing capability
Fax machine with domestic and international service
Photocopy machine
Conference room accommodating up to 10 people
Currency exchange service
Pre-paid domestic and international calling cards
Cellular phone rentals
Pre-paid SIM cards