Airport Security
Security Checkpoint Locations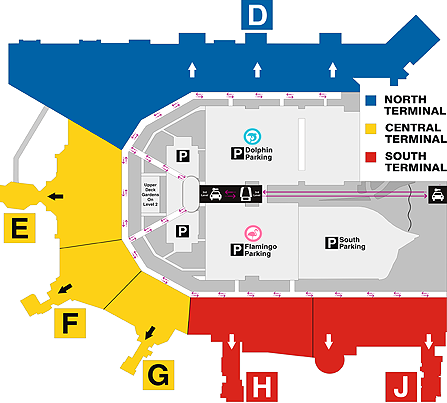 Security Travel Tips


Airline Locations


Where to Park


Flight Connections
Miami-Dade Airport Police Department (MDPD)
MDPD, located at the airport, coordinates and provides law enforcement protection for Miami International Airport - Phone: 305-876-7373.

Crime Stoppers Phone: 305-471-TIPS (8477)

Miami-Dade Airport Fire Rescue (MDFR)
MDFR, located at the airport, provides and coordinates all fire fighting and rescue protection activities for Miami International Airport - Phone: 305-876-7575.

Security Travel Tips

Airport ID Badging Information

MIA Rules and Regulations

Useful Government Links

Miami-Dade County
Transportation Security Administration (TSA)
Customs and Border Patrol (CBP)
Department of Homeland Security (DHS)
Federal Aviation Administration (FAA)
Center for Disease Control and Prevention (CDC)



Home
About
How to Apply
Kiosk & Terminal Maps
Other Programs
Contact Us
FAQs
www.CBP.gov
Downloads

Miami International Airport (MIA) now offers Global Entry - a new program managed by U.S. Customs and Border Protection (CBP) which allows pre-approved, low-risk travelers expedited clearance upon arrival into the United States.

Participants will enter the United States by utilizing automated kiosks located in the Passport Control area. The average time for Global Entry processing is 40 seconds. The program targets those who leave the country at least four times per year, mainly airline personnel and business travelers. Those participating in the program benefit from being better equipped to make tight connecting flights. For step-by-step instructions on how to use the kiosks in each Global Entry airport, click here.


View CBP's video: Global Entry Public Service Announcement

This program is available to U.S. citizens and legal, permanent residents and there is a $100 fee for a five-year registration. Apply online, or visit www.globalentry.gov for more information.

TSA Pre✓™ is an expedited screening initiative that is expanding to airports across the country. Implementing a key component of the agency's intelligence-driven, risk-based approach to security, TSA Pre✓™ enhances aviation security by placing more focus on pre-screening individuals who volunteer to participate to expedite the travel experience.

TSA is partnering with U.S. Customs and Border Protection (CBP) as well as U.S. air carriers as part of this initiative. Certain frequent flyers from Alaska Airlines, American Airlines, Delta Air Lines, United Airlines, US Airways and certain members of CBP's Trusted Traveler programs, including Global Entry, SENTRI, and NEXUS who are U.S. citizens are eligible to participate.

TSA Pre✓™ is currently available for eligible passengers flying on participating airlines at these 16 airports.

TSA plans to continue expanding the TSA Pre✓™ concept to include additional airlines, as well as airports that participate in CBP's Global Entry program, once operationally ready. Read more.
TSA / CBP Useful Links


TSA Videos
Airlines @ MIA