Traveling Today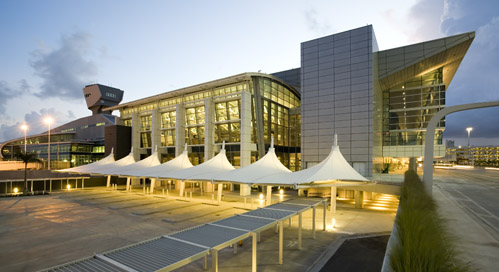 View of MIA's South Terminal - Photo by Steven Brooke - Visit MIA's Shopping and Dining directory

We are experiencing great changes in the way you, the traveling public, will be using the United States' air transportation network. The added requirements of safety and security will impose some new constraints on how to use the aviation system. With that in mind, we are offering the following tips on how to get from the start of your trip to your destination, with as little inconvenience as possible. Most important, give yourself extra time and please be patient. Every procedure we are undertaking is in an effort to ensure that your travel is safe, secure, and efficient.
Information about Flight Connections
Before Coming to the Airport
Call your airline to confirm your flight and departure time or visit
Parking
Upper Short-Term Parking lot (Departure Level) is open. All vehicles entering may be inspected, as well as baggage in the vehicle.

Lower Short-Term Parking lot (Arrival Level) is open for daytime use on a reduced schedule. Vehicles may not be left overnight. All vehicles entering may be inspected, as well as baggage in the vehicle.

Long-Term Parking Garages (Dolphin & Flamingo) are open. Please follow signs. Vehicles, as well as baggage in the vehicles, entering Dolphin & Flamingo Garages are subject to inspection prior to entering.
Curbside Baggage Check-In:
The availability of curbside baggage check-in is available on an airline-by-airline basis. Please check with your airline to determine if they are currently offering this service.
Curbside Pick-up / Drop off:
Do not leave your vehicle unattended at curbside. All unattended vehicles will be immediately towed at the owner's expense. Click here for curbside pick-up and drop off areas.
Checking in for a Flight
You will be required to have valid government-issued ID when you check-in for your flight. Please be prepared to show ID as well as boarding cards at each stage of the boarding process.

If you are utilizing an E-ticket or ticket-less travel, please confirm with your airline what you will need at check-in. You may need to have a specific written confirmation document such as a letter from the air carrier acknowledging your reservation.
At Security Screening
Screening checkpoints are now the responsibility of the Transportation Security Administration (TSA), a Federal agency. Please check MIA's Security Tips section for additional information about security.
At all Times
Control all carry-on bags. Never leave anything unattended as it could be subject to tampering. All unattended bags will be removed and may be discarded. Never carry anything onboard the aircraft for another person, especially for someone you do not know. Report any unattended packages or baggage anywhere in the airport or on the airplane to airport security personnel or airline personnel.
Connecting Flights at MIA
There are three terminals at MIA (view map)

There are two U.S Customs and Border Protection (federal inspection process) areas (view map):

- Exit at level 1
- Exit at level 3

Clearance times for the federal inspection process vary - contact your airline or locate an airline representative for assistance.
Baggage Claim during Connections:
Skyride Connector (moving walkways): Hover







(view map)
All three terminals and concourses are connected via a Skyride Connector (moving walkways) located on the 3rd level of each terminal. Allow 15 minutes to move between South / North Terminals. Review additional information about screening checkpoints. Use Skyride to connect to parking garages and MIA Mover Station.
North Terminal - Concourse D Skytrain:
Concourse D skytrain whisks passengers off their feet from one end of the mile-long facility to the other for quick connections to everything from flights and baggage claim to stores, restaurants and passport control.

The skytrain people mover system features stations at four main areas of Concourse D. A ride on the skytrain can take you from: station #1 near Gate D-17 at the easternmost end of Concourse D to station #2 for domestic baggage claim; continue to station #3 for connecting flights at gates D-26 to D-39, passport control for international travelers or exits to Central and South Terminal; or carry you all the way to station #4 for gates D-40 to D-60 and American Eagle flights at the new Regional Commuter Facility - all within five minutes. View skytrain map.
For information or assistance while at MIA, pick up one of our 24 hour white courtesy phones or visit our Tourist Information Center at the


, 2nd level, from 6 a.m. to 10 p.m. Please keep these tips in mind as you plan your trips and when you arrive at the airport. If we work together we can make the system safe and effective for every traveler. Your safety and security is our number one priority. For additional information you may call us at 305-876-7000 or contact us.
Prior to Getting to the Airport
If you are departing from Miami International Airport (MIA), please call ahead to your airline to confirm your flight and departure time, concourse and gate. You can also view MIA's Flight Departure Information (real time) or Flight Tracker (real time).
Curbside Parking Restrictions
Curbside parking in front of the terminal is restricted to vehicles that are actually loading or unloading. Due to TSA Security Regulations, all vehicles left unattended at the curbside will be towed at the owner's expense. Please do not leave your vehicle unattended. View all MIA's parking options.
Parking Garages and Moving Walkways
Use Skyride on the 3rd level to connect between terminals, parking garages and MIA Mover Station. If you are parking in the Dolphin North and Flamingo South garages, airlines in concourses D-E are closer to the Dolphin North Garage and airlines in concourses F-H are closer to the Flamingo South Garage. View where to park closest to your airline.

Prior to getting on the elevator, stamp your parking ticket. The information stamped (garage name, level and aisle) will help you find your car upon your return. There are also terminal maps displayed along the skybridges and moving walkways to show you the location of your airline. View all MIA's parking options.
International Departures
If you are departing on an international flight, be sure and arrive at least two hours early. You might want to check with U.S. Customs' ''Know Before You Go'' information.