Ando Volando
Emilio Adan Martínez
Australian pine, machine-stitched treated paper, string aluminum rod and paint, 2016-18, dimensions variable
Terminal E
3rd Level to Satellite E train platform
Post-security
Andan Volando (2000) and Ando Volando (2016-2018) are on view at MIA's Concourse D and Concourse E, respectively. Both installations feature pieces constructed with paper, string and Australian pine branches, suggesting seemingly delicate sculptural pieces as light, floating works of art. Resembling kites and boats, and conveying the idea of flight, the works comment on the concept of travel and on the fleeting passage of time through life, space and dimension.
Ando Volando consists of six elegantly perched mobiles assembled in groups of three - a number the artist uses frequently in his work. The mobiles hang from two elevated atriums on the Concourse E train platform. Hand-sewn painted paper is formed into trilateral shapes and delicately knotted and tied to hand-trimmed wood using strings. Hovering in the space at different planes, each piece draws the gaze to a high point of the ceiling.
Ando Volando represents the idea of journey - both physical and metaphorical - by using fanciful representations of motion inherent in transportation, and the passage from one place to another.
Bio:
Emilio Adan Martínez was born in Cienfuegos, Cuba, in 1954. At the age of six, Martínez moved with his family to Miami, Florida. The artist has worked in many different creative disciplines throughout his career, including fashion design, photography, drawing, printmaking, painting and sculpture. Martínez earned his BFA from Florida International University and has participated in several South Florida exhibitions. His first solo exhibition was at MIA's Central Terminal Gallery in 2000. Martínez's work can be found in public and private collections throughout the United States, Latin America and Europe. He lives and works in Miami, Florida.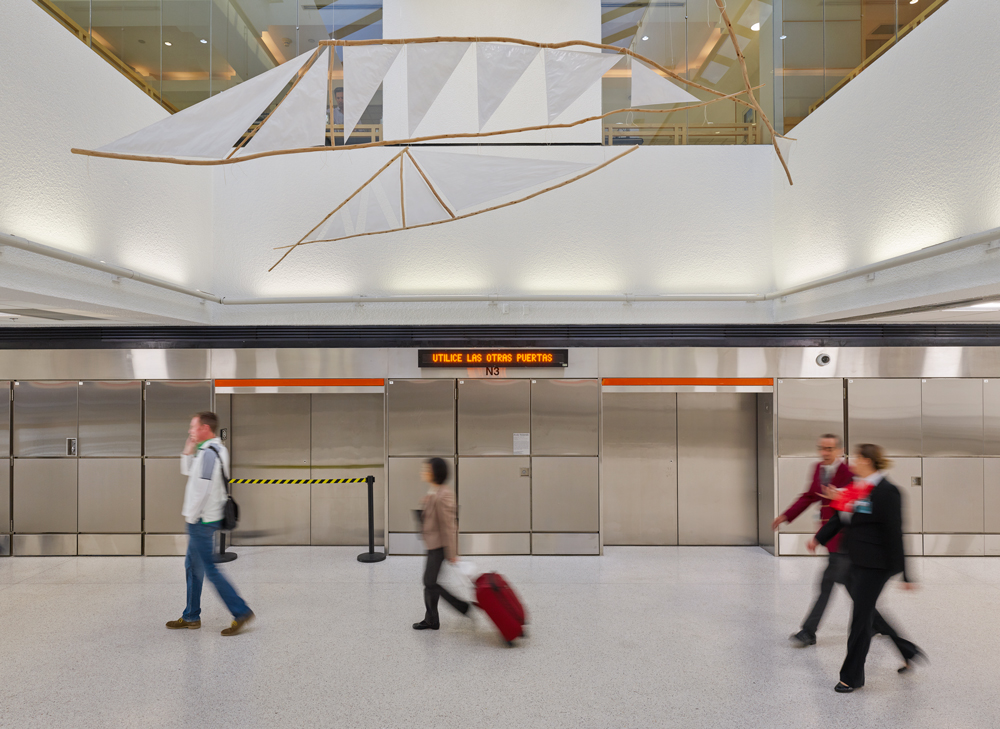 Photo by Daniel Portnoy. Courtesy of MIA Galleries, Miami International Airport
---
Layovers
Anastasia Samoylova
Photography, Dye-Sublimation Print on Aluminum, 2019, 120" x 40" (each)
Concourse G
2nd Level
Post-security
For Miami International Airport, Anastasia Samoylova created a series of six large-scale photographic murals inspired by travel, specifically by long journeys from one city to another via multiple layovers. The compositions present a light-hearted view on real and imaginary routes through some of the most picturesque destinations transformed into vibrant kaleidoscopic tableaus. Among such journeys might be Miami-Amsterdam-Inverness (Scottish Highlands) or Miami-Cayman Islands-Montego Bay, both of which are existing routes, and others. The viewers can identify the photographically realistic locations imaginatively assembled into multi-layered geometric compositions.
Samoylova creates her collages by printing, sculpting, assembling and re-photographing nature-themed images in the studio along with typical studio props and mirrors, building compositions as if they were three dimensional mosaics. The resulting assemblages represent worlds constructed from memory, from souvenir postcards and picture albums of places visited and photographed. Like memory, those compositions are abstract, composed of fragments that make a whole. The aesthetic of these compositions parallel the artist's ongoing series Landscape Sublime.
Bio:
Anastasia Samoylova (born in Moscow; lives and works in Miami) moves between observational photography, studio practice and installation. Her studio-based project, Landscape Sublime, explores how social media images and the repetition of certain motifs informs an understanding of natural phenomena. In recent years she has worked in this mode for commissioned large-scale public art installations, as well as shown in several solo and group exhibitions. Landscape Sublime will be presented at the Wilhelm-Hack-Museum in Germany as part of the Biennale für aktuelle Fotografie 2020.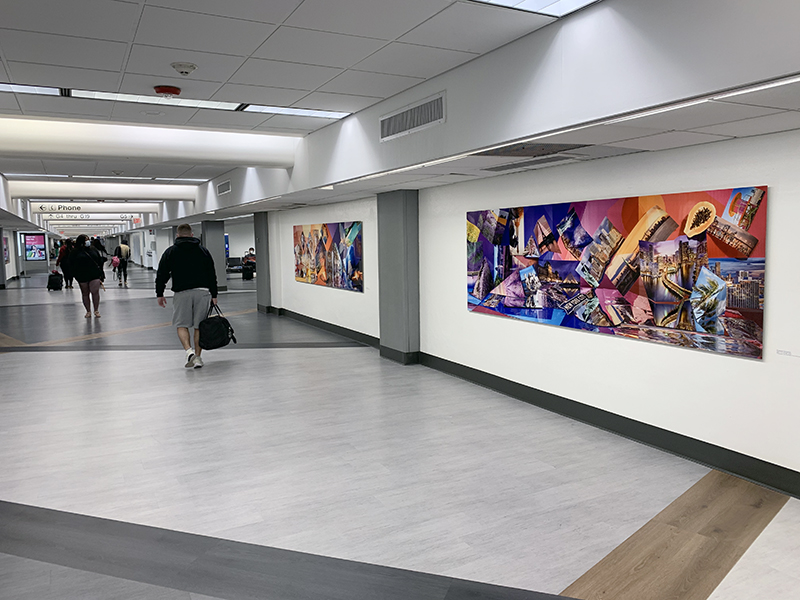 Photo courtesy of MIA Galleries, Miami International Airport
---
Pattern/Absraction/Identity
Ray Azcuy
Watercolor and ink on cotton paper, 2015-2017, 93" x 45" & 45" x 45"
Concourse F
2nd Level
Post-security
Inspired by printed fabrics and wall coverings, the series of mixed-media collages exhibited here explore pattern, abstraction, and symbolism. The themes and arrangements, historically used in those highly functional designs, have documented family traditions, reflected gender roles, mimicked nature, disclosed religious affiliation, suggested political perspective, and revealed cultural characteristics. The decision to isolate the organic and geometric shapes and generate even more heavily patterned abstractions was influenced by these symbolic references to identity.
The collages are produced from a series of abstract and representational mixed-media paintings that are intentionally sliced, reconfigured, and assembled into new compositions.
Bio:
Ray Azcuy lives and works in South Florida. He received his BA and MA from the University of South Florida, Tampa, Florida. He is a recipient of the South Florida Cultural Consortium Fellowship for Visual and Media Artists and the John F. Kennedy Center for the Performing Arts Summer Fellowship. Azcuy's work has been in various solo and group exhibitions including: New Art South Florida, MOCA at Goldman, Miami, FL., Cintas Foundation Fellowship Finalists, MDC's Museum of Art + Design, Miami, FL., Big Juicy Painting (and More), Miami Art Museum, Miami, FL., PUSH PLAY Redefining POP, Jacksonville Museum of Modern Art, Jacksonville. FL., Salvador Dali Museum, St. Petersburg, FL., St. Petersburg Art Center, St. Petersburg, FL., Aesthetics & Values, Frost Art Museum, Florida International University, Miami, FL., Miami-Dade College, Kendall Campus, Miami, FL., and mia Galleries, Miami International Airport, Miami, FL. Additionally, Azcuy has taught at the secondary and college levels and was visual arts supervisor and director of museum magnet programs for Miami-Dade County Public Schools.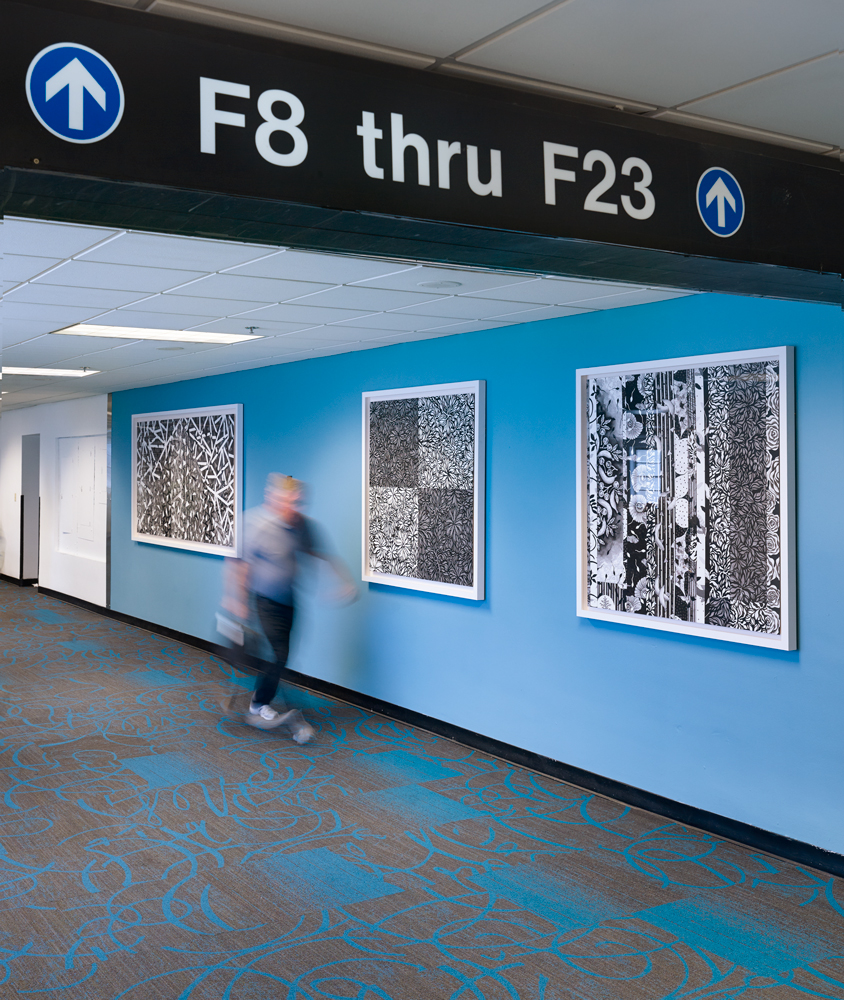 Photo by Daniel Portnoy. Courtesy of MIA Galleries, Miami International Airport
---
Tropic Episodes
Michelle Weinberg
Digital imagery on Acrylic (32 panels), 2019, dimensions variable
Central Terminal, E – F
3rd Level, Moving Walkway
Pre- Security
Artist Michelle Weinberg created Tropic Episodes, a 32-panel public artwork for Miami International Airport's Skyride, located at Central Terminal, third level. Passengers and visitors are immersed with the work as they glide on the moving Skyride, like players in a giant film strip.
Interior spaces emerge out of geometric abstraction and are swapped for exterior horizons.
Recurring motifs of pinwheels and artist's canvases slip in and out of patterned architectures. Storefronts dissolve into dense, layered floral passages.
With Tropic Episodes, Weinberg introduces a rich, stylized narrative inspired by South Florida's collision of lush tropical flora with streamlined mid-century modernist architecture.
Bio:
Michelle Weinberg is a painter who creates art for surfaces, interiors, architecture and public spaces. She received her BFA from School of Visual Arts in NYC and her MFA from Tyler School of Art in Philadelphia. She is the recipient of awards, fellowships and residencies including a Creative Learning Grant from the Lower Manhattan Cultural Council, a Pollock-Krasner Foundation Award, a Wavemaker Grant from Cannonball Miami, a South Florida Cultural Consortium Fellowship in Visual & Media Art, an Individual Artist Fellowship and Artist Enhancement Grant from the State of Florida, the National Foundation for Advancement in the Arts, residencies at Mayer of Munich in Germany, MacDowell Colony, Millay Colony, the Fine Arts Work Center in Provincetown, homesession and Fundacion Valparaiso in Spain, and Altos de Chavon in the Dominican Republic. Exhibitions of her work include: FIU Frost Art Museum, the Wolfsonian Museum, Dorsch Gallery and Dot FiftyOne Gallery in Miami, Cyan Gallery in Barcelona, Curatorial + Co in Sydney, AU, The Hewitt Gallery at Marymount Manhattan College and ARENA in NYC, The Bob Rauschenberg Gallery at Edison State College in Fort Myers, FL, The Schoolhouse Gallery in Provincetown, MA and Islip Art Museum, NY. Commissions include murals for The Wolfsonian Museum-FIU, Facebook offices in Miami and Young at Art Museum in Dania, public art projects for Miami-Dade County, City of Tampa, City of Pembroke Pines, Cultural Council of Jacksonville, and City of Hollywood, all in FL. Weinberg is Creative Director of Girls' Club in Fort Lauderdale, and a consultant to museums and non-profits, developing exhibitions, education programming and more.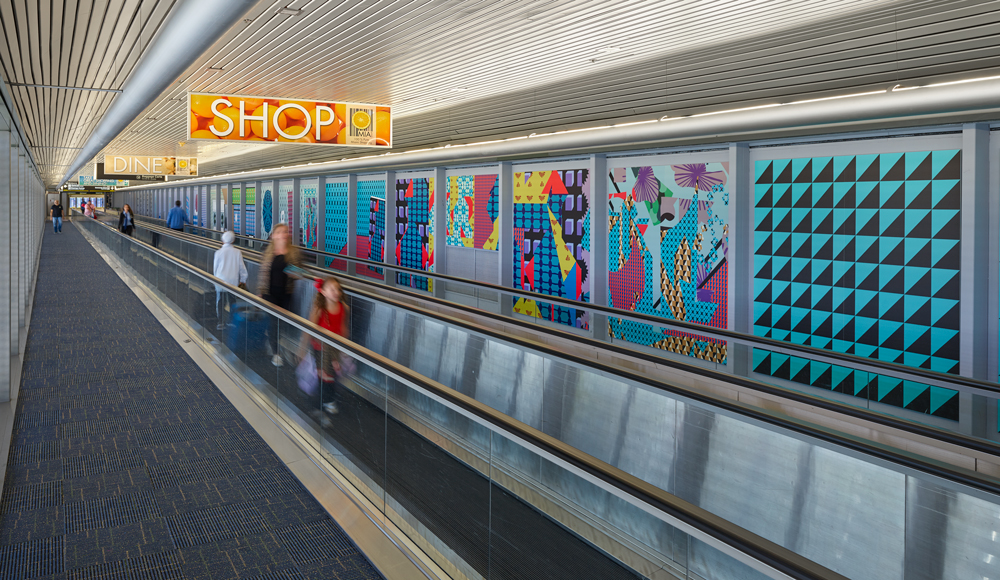 Photo by Daniel Portnoy. Courtesy of MIA Galleries, Miami International Airport
Contact Info
For additional information regarding fine arts and cultural affairs at MIA, please contact us via email or phone.
Email: arts@miami-airport.com
Phone: 305-876-0749