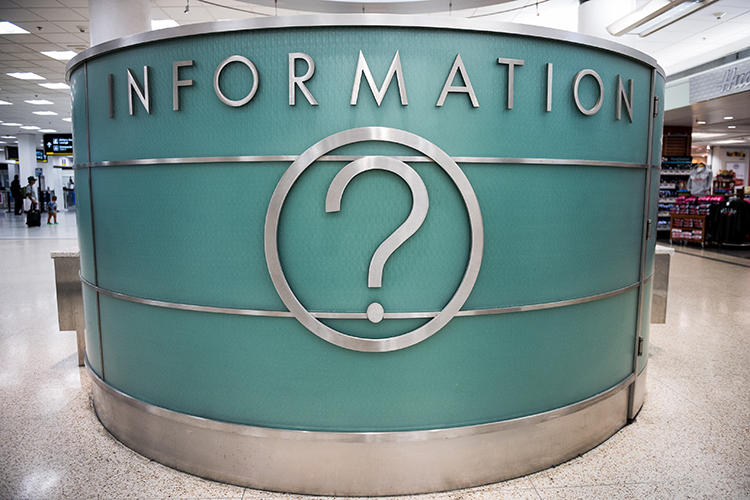 ---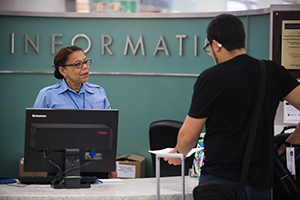 Tourist Information Counters





Located throughout terminals D, E, H and J, including the main counter at Central Terminal E, Level 2, near the airport's hotel.
Open daily from 6 a.m. - 10 p.m.
Services provided include:
Multilingual airport and tourist information
Multilingual interpreting and translation service
Assistance with TDD phone at the Information Center
Resolving customer complaints
Accepting lost items when Lost and Found office is closed
For additional information, call 305-876-7000.

Paging & Information Center (PIC)
To request a page, please visit the Concourse E Information Center located on the second level (departures) of Central Terminal E.
In addition to paging, the center also provides information, emergency messages and assistance to the public through:
Public number (305-876-7000)
Direct 1-800-TALK-MIA lines
For comments, questions or concerns, you can also contact Customer Service at customerservice@miami-airport.com
At MIA we are dedicated to providing a great experience for all our passengers. Traveling can be stressful, so we offer helpful services in order to ease the journey. For more information on accessibility click here.
Title VI of the Civil Rights Act of 1964 prohibits the discrimination on the basis of race, color, creed, sex or national origin in programs and activities receiving federal financial assistance. Specifically, Title VI provides that 'no person in the United States shall, on the grounds of race, creed, color, sex, or national origin, be excluded from participation in, be denied the benefits of, or be subjected to discrimination under any program or activity receiving federal financial assistance." The Aviation Department is committed to providing aeronautical services to the public regardless of race, creed, color, sex, or national origin. In addition, the Department is dedicated to maintaining compliance with language access requirements to ensure effective communication with limited English proficient (LEP) individuals as required by Executive Order 13166. This policy has been developed to provide for the periodic review of the Department's practices to comply with Title VI requirements and to establish procedures that will provide guidance in assessing our compliance as well as updating our practices as necessary.
Click to view Notice of Non-Discrimination
If you believe you have been discriminated and denied airport services, you may file your complaint directly to the FAA Civil Rights Office at:
Federal Aviation Administration
Office of Civil Rights, ACR-1
800 Independence Avenue, S.W.
Washington, D.C. 20591
or by mail to:
Miami-Dade Aviation Department
ATTN: Ms. Barbara Jimenez, Title VI Coordinator
P.O. Box 025504
Miami, Florida 33102-5504
or online by completing the complaint form link below:
Customer Service Complaint Form
---
Federal Register 49 CFR 21 Title Vl
12-01 Compliance with 49 CFR Part 21 - Title VI of the Civil Rights Act of 1964
Airport-Wide Public Service Announcements
(Audio files and transcripts contain four langauges)
Welcome to MIA
Play Audio:
Read Transcript:
---
Transportation Security Administration (TSA) Unattended Baggage
Play Audio: English, Spanish, Portugese, Creole
Read Transcript: English, Spanish, Portugese, Creole
---
Transportation Security Administration (TSA) 3-1-1 Liquids Rule
Play Audio: English, Spanish, Portugese, Creole
Read Transcript: English, Spanish, Portugese, Creole
---
Military Lounge
Play Audio: English, Spanish, Portugese, Creole
Read Transcript: English, Spanish, Portugese, Creole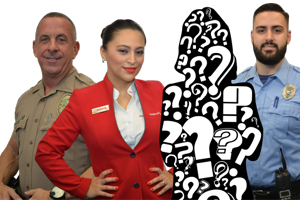 Did someone make a difference in your travel experience?
The Reward & Recognition Program was established to enhance unit morale, recognize and reward airport employees who provide exemplary service to MIA's passengers. If any airport employee went above and beyond their call of duty to assist you or anyone you know, you can nominate them for exceptional customer service through MIA's Reward & Recognition (R&R) program.
The following options are available to submit nominations:
Reward & Recognition Winners
The Rewards & Recognition program runs annually from January to December.
Meet MIA 2022 Employees of the Year
Nicson Exume & Jovyleen Farr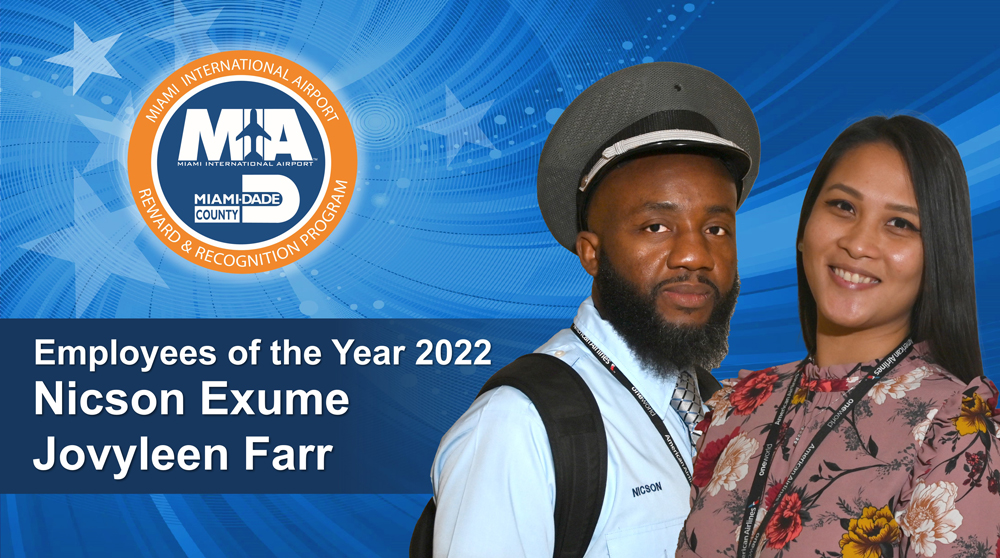 ---
Meet the R&R 2023 Monthly Winners
Click images to view video about the winners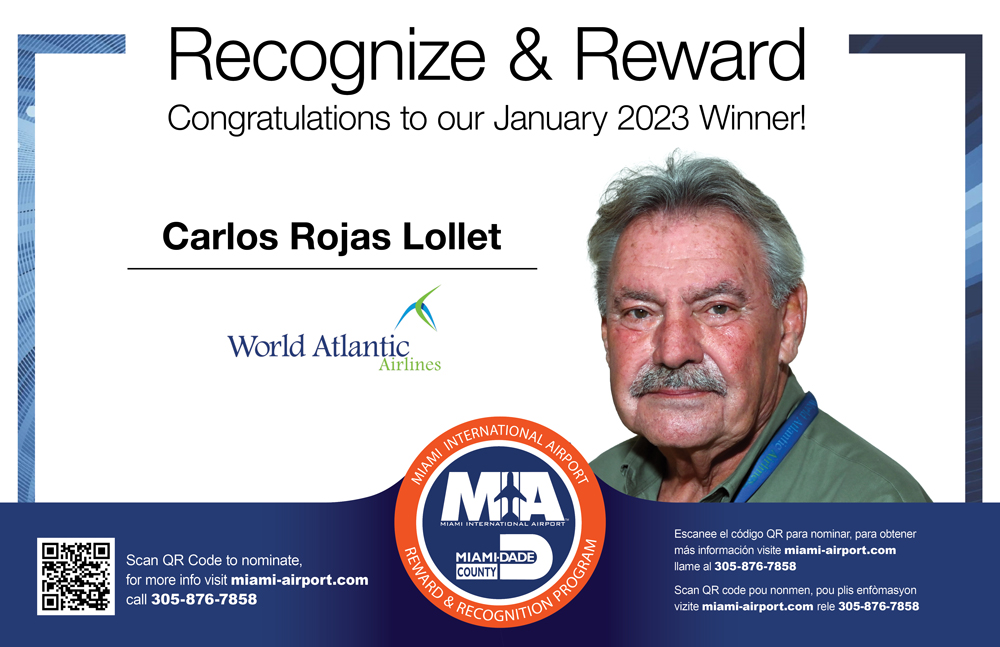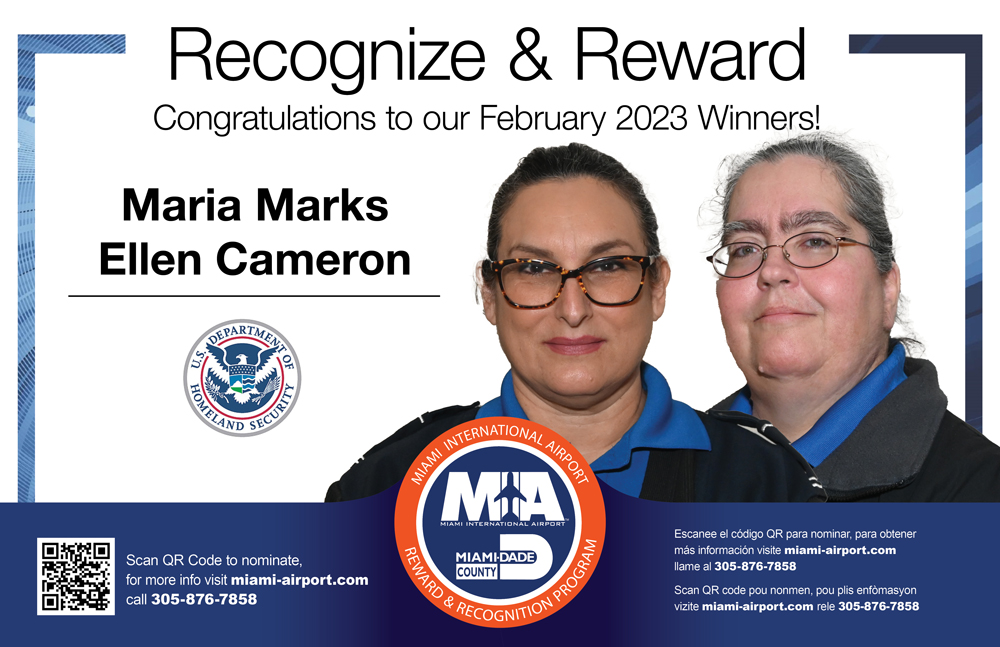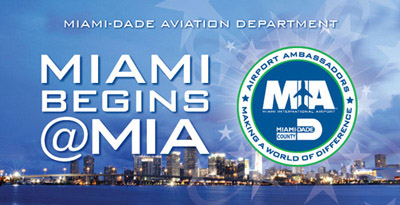 The Ambassador Information Program's mission is to provide information and assistance to the traveling public. Volunteer Customer Service representatives circulate throughout the terminal, seeking out passengers in need of assistance.
You can play a vital role in welcoming visitors to Greater Miami and the beaches as a Volunteer Ambassador.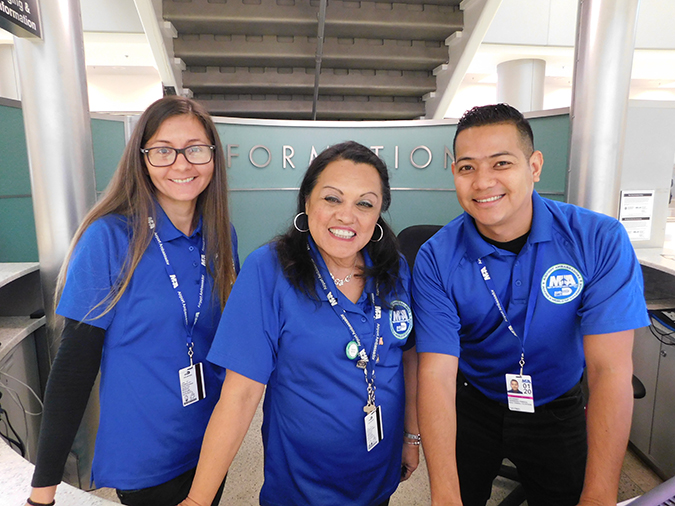 Requirements:
Must be 16 years or older
Extensive security requirements
Volunteer for a four-hour shift twice a month
Benefits:
Free parking
Free uniforms
Airport discounts
Awards
Flexible schedules
Extensive training
Application Information:
For more information, call 305-869-1859 or email us.

Miami International Airport's therapy dog program, the Miami Hound Machine, features volunteer K-9 ambassadors and their owners who spread love, warmth and assistance to travelers.
The Miami Hound Machine, all certified by the Alliance of Therapy Dogs with at least six months of experience, volunteer their time to de-stress and comfort passengers during peak travel times from Thursday to Monday in the busiest areas of the airport. Miami Hound Machine appearance times and locations will be shared via MIA's social media accounts with the hashtag #MIAmiHoundMachine.
The Miami Hound Machine joins other recent customer service enhancements at MIA, including a pre-security yoga room, indoor pet relief areas, and the MIAmamas nursing suites, with the goal to make travel easier for passengers.
For more information, contact that Volunteer Ambassador Program at 305-869-1859 or email us.