We are experiencing an increase in travelers, and our parking garages are reaching capacity on Thursdays to Saturdays. Please arrive at least 3 hours before your flight and consider alternate ways to get to MIA.
MIA Quick Pay stations in the parking garages allow passengers and visitors to pre-pay for parking before reaching the airport exit lane. After parking, customers need to take their parking ticket and then use a self-service station to pay when ready to leave the garage. When customers get to the airport exit lane, they will insert the pre-paid ticket into the reader and be allowed to exit within seconds.
Our parking guidance system helps customers locate open parking spots inside the parking garages. A green light indicates an available parking spot, while a red light indicates an occupied spot. Digital signage also lets customers know the real-time availability of parking spots on each floor.
Check airline locations to determine the best parking area. More information about parking is available in our website's frequently asked questions section.
As part of our transition to a new parking payment system, access to our parking garages with SunPass is no longer available.
RVs and vehicles with trailers are not permitted in our parking facilities.
---
Dolphin Garage
Serves Concourses D and E
Use when flying American Airlines, British Airways, JetBlue and Qatar Airways
Flamingo Garage

Serves Concourses E - J
Use when flying all other airlines
All vehicles parked in the garage are limited to a maximum stay of 45 days, except where "no overnight parking" is listed. Vehicles will be towed at owner's expense after 45 days.
Over-height vehicles may use the "High-Vehicle" surface lot parking area located adjacent to the East side of the Dolphin (North) Garage.
For more information, please call 305-876-7536.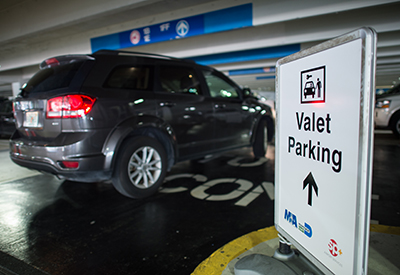 Offering the closest parking at MIA, just pull up and you're on your way to your destination. Valet offers the convenience of not worrying about where to park.
Valet parking is located at Departures/2nd level of the Dolphin and Flamingo Garages.
Valet Parking Rates
0 - 3 hours (first day only) - $22.00
3 - 24 hours - $35.00
Maximum Daily Rate - $35.00
All Vehicles parked in valet are limited to a maximum length of stay of 20 days.
For more information, please call 305-876-0118.

Offering the best value for parking at MIA, the Economy Park & Ride Lot is located at 1350 N.W. 45th Avenue. The Lot is accessible from both LeJeune Road and Perimeter Road. Passengers can get to the main terminal by using a free shuttle service that runs every 15 minutes. Shuttle service pick-up and drop-off locations are on MIA's departures level across from doors 3, 11, and 26.
Economy Park & Ride Lot Rate
Forms of Payment:
Payment can be made using the PaybyPhone mobile application, website, or phone line. Accepted forms of payment include:
Credit Card (Visa, Mastercard, American Express, or Discover)
Apple Pay
Google Pay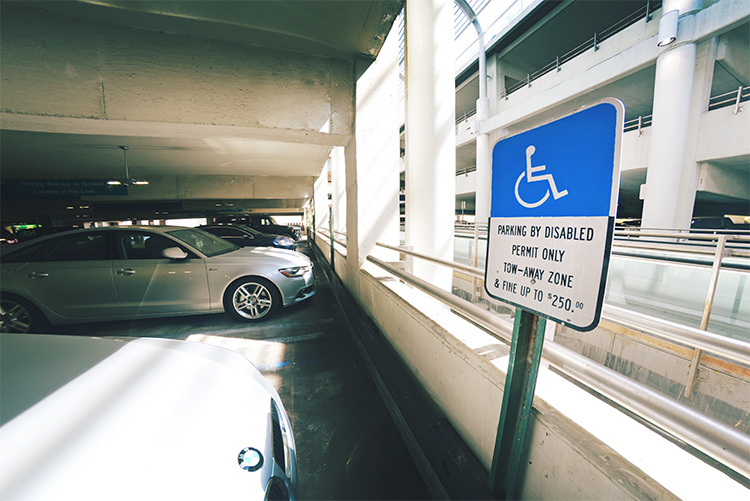 Vehicles with disabled and stroller permits may use accessible parking areas on the 3rd level and ground level of all garages.
Miami-Dade County Ordinance requires all guests with a disabled parking permit or license tag to pay standard parking rates except as provided by Florida State Law. Two hours of complimentary parking will be provided to vehicles displaying a disabled parking permit or license tag. When exiting, proceed to any lane and press the telephone icon on the kiosk, where you will advise a representative that you have a valid parking permit or license tag. A representative will assist you with applying the discount.
In accordance with Florida Statute 316.1964, ONLY vehicles with specialized equipment such as ramps, lifts, foot or hand controls, for use by a person with a disability, or any vehicle that is displaying the "DV" license plate issued under s. 320.084 or the Florida Toll Exemption permit, is exempt from parking charges.
Notice to Disabled Veterans: Effective July 1, 2016
Effective July 1, 2016, disabled veterans displaying a Florida license plate for Disabled Veterans, issued under Fla. Statute 320.084, will receive free parking. The disabled veteran to whom the license plate was issued must be in the vehicle in order for this exception to apply.
Below are representative samples of Florida Disabled Veteran license plates: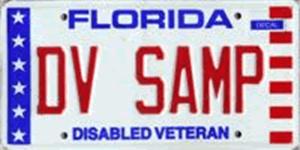 Disabled Veterans License Plates.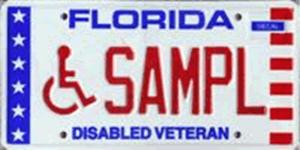 Disabled Veteran Wheelchair License Plates.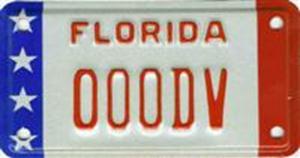 Paralyzed Veterans of America License Plates.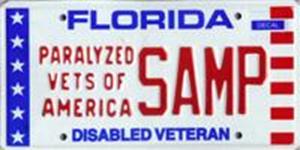 Paralyzed Veterans of America License Plates.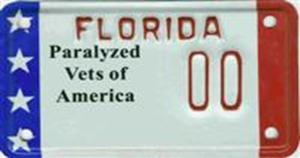 Paralyzed Veterans of America License Plates.
This Waiting Lot offers 60 spaces free of charge for private, not-for-hire vehicles to use while waiting to pick up someone from the airport. The lot is conveniently located just off
LeJeune Road and NW 31 Street
, accessible from LeJeune Road heading North or South.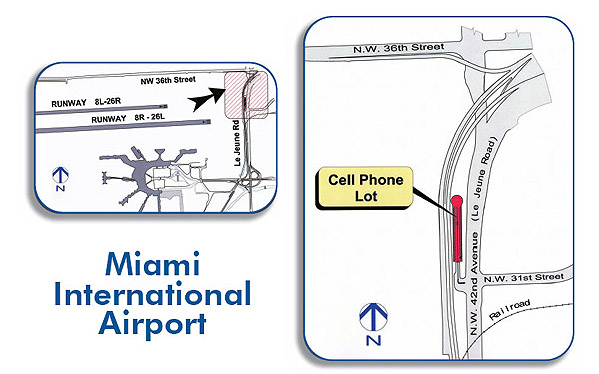 From the North
Take I-95 South to State Road 112 West. Exit at SR 953 LeJeune Road South Take a right at the first traffic signal and proceed into the Cell Phone Lot

From the South
Take either State Road 826 Northbound OR the Florida Turnpike Northbound to State Road 836 East. Exit at SR 953 LeJeune Road North Turn left at 31st Street and proceed into the Cell Phone Lot
Additional Resources
Parking spaces for electric vehicle charging are available at the following locations 24/7:
Arrivals 1st level, inner loop between Terminals E and G.
Departures 2nd level, valet parking at the Dolphin and Flamingo Garages.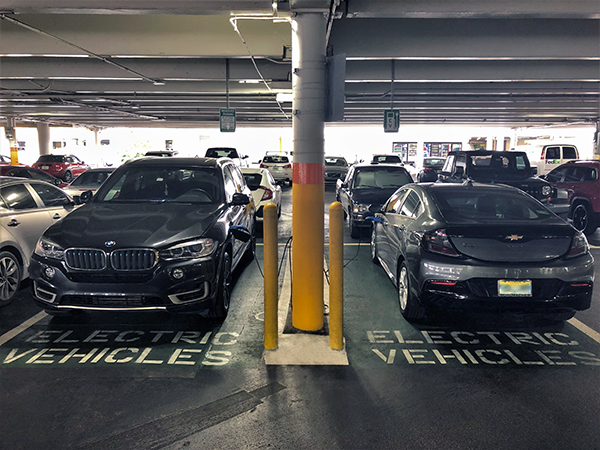 Garage Parking Rates
Each 20 minute increment
$2.00
Maximum Daily Rate
$25.00

Maximum rate applies after 4 hours.
Forms of Payment
Cash

Credit Cards (Visa, MasterCard, American Express, and Discover)

Apple Pay

Samsung Pay

You can find a map of self-service stations here. Coming Soon.
Where to Park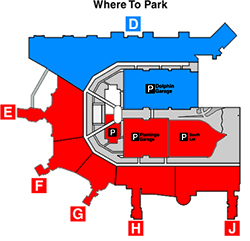 For more information, check out the Where to Park Map.