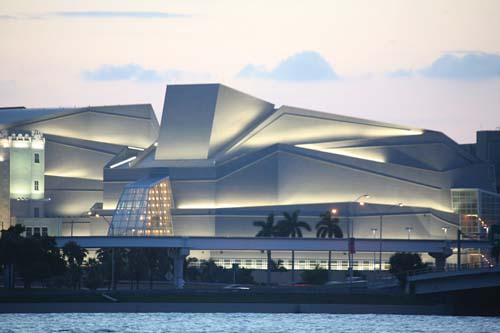 Arsht Center - photo by
GMCVB
Websites below are not operated by the Miami-Dade Aviation Department.
Visitors Information

Greater Miami Conventions Visitors Bureau (GMCVB) and Featured Events - provides information for leisure travelers, group and incentive visitors, tour operators and travel agents, as well as journalists. For further information call visitor information at (888) 76-MIAMI.

Florida Everglades
- This best of the Florida Everglades and the 10,000 islands to you. It combines history and geography, with practical maps, fishing and tourism information.

Greater Miami and the Beaches Hotel Association
- provides hotel and motel information for Miami-Dade County. This site has a useful map so you can find selections close to the airport, downtown or on Miami Beach.

The Beacon Council
- Miami-Dade County's Official Economic Development Partnership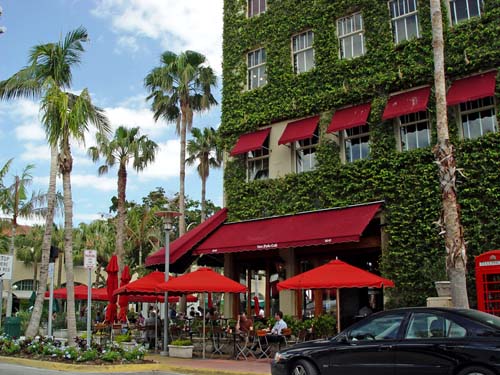 Lincoln Rd.- photo by
GMCVB
Aviation Related Sites

Airport Council International (ACI)
- is the association of the world's airports. The main purpose of ACI is to foster cooperation among its member airports and with other partners in world aviation.

Airports Council International North America (ACI-NA)
- is a membership organization representing approximately 150 state, regional and local governing bodies that own and operate the principal airports served by scheduled air carriers in the United States, Canada and the Virgin Islands.

Aircraft Owners and Pilots Association (AOPA)
- This Website was developed by the Aircraft Owners and Pilots Association (AOPA) to help decision makers and the general public better understand General Aviation's critical role in our national economy and the essential role it plays in the daily lives of all Americans.

International Air Transport (IATA)
- Trade association of the worlds international airline industry.

Strategic Airport Master Planning Study (SMP 2015-2050)
- On April 2009, the Miami-Dade Aviation Department authorized the initiation of a Strategic Airport Master Planning Study (SMP 2015-2050) for the County's System of Airports in order to identify and assess the future air transportation needs of the County.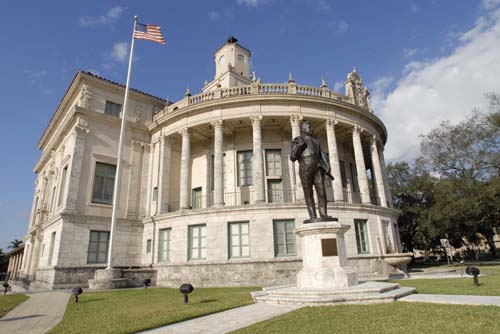 Coral Gables City Hall - photo by
GMCVB
Federal Agency Sites - Phone Numbers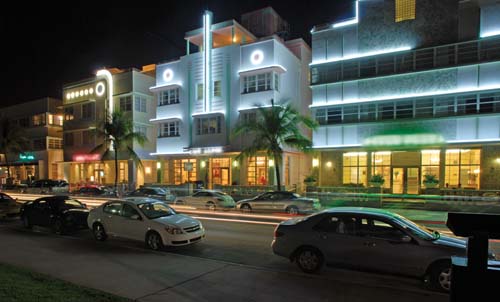 South Beach Night.- photo by
GMCVB
Informative - MIA's News Clips

Miami Beach 411
- local search guide with news, articles, photos, links, maps, and other resources for planning a Florida vacation.

CNN Interactive
- current news, weather, and sports by CNN news sources worldwide.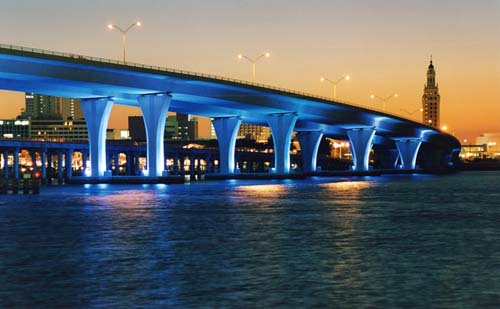 Freedom Tower - photo by
GMCVB
Transportation Links - FAQs - Phone Numbers

826-836 Project
- Rebuilding the 826-836 Interchange for Better Mobility.

Airport Link Metrorail Project
- The Airport Link will run from the Earlington Heights Station at 2100 NW 41 St. along State Road 112 to the MIC, which is being developed by the
Florida Department of Transportation
(FDOT).
Amtrak - Official site includes schedules, fares, promotions, and reservations.

FDOT's 511 Traveler Information System
- a free phone and Internet resource that provides English and Spanish real-time traffic information 24 hours a day, 7 days a week on all Florida interstate highways, Florida's Turnpike and major metropolitan roadways in the state.
Driving to Miami or the Florida Keys?

Since February 2011, tolls on Florida's Turnpike - from Exit 1 to Exit 47 in Miami-Dade County - are only collected electronically with

SunPass

or with TOLL-BY-PLATE, a system that takes a photo of a vehicle's license plate and mails a bill to the vehicle's registered owner. Cash toll collections were eliminated on this segment of the Turnpike. With SunPass or TOLL-BY-PLATE, drivers DO NOT STOP to pay tolls. Drivers in

rental cars

should ask about charging tolls to the credit card used to rent the vehicle. Visit

www.floridasturnpike.com

or call 1-800-749-PIKE for details.

Greyhound Bus Service
- Fares, schedules and ticketing for Greyhound Lines, the largest North American intercity bus company, with 16000 daily bus departures to 3100 destinations.

Public Transportation Maps and Schedules

Metrobus Information
- Metrobus offers countywide service from Miami Beach to West Miami-Dade and from the Middle Keys to the southern portion of Broward County. All buses are wheelchair accessible. In addition, Metrobus connects with Metrorail and Metromover. With 893 buses, more than 90 Metrobus routes travel over 32.6 million miles per year. Several routes operate 24 hours a day.

Metrorail Information
- Miami-Dade County's 22-mile, elevated rapid transit system runs from Kendall through South Miami, Coral Gables, and downtown Miami; to the Civic Center/Jackson Memorial Hospital area; and to Brownsville, Liberty City, Hialeah, and Medley in northwest Miami-Dade, with connections to Broward and Palm Beach counties at the Tri-Rail/Metrorail transfer station.

Metromover Information
- Metromover is a free automated people-mover system that serves downtown Miami from Omni to Brickell and connects with Metrorail at
Government Center
and Brickell stations. There are 20 conveniently-located wheelchair-accessible
Metromover stations
, one about every two blocks. -
Get a public transportation EASY Card

Miami Intermodal Center (MIC)
- Located next to the Miami International Airport, the Miami Intermodal Center is a massive ground transportation hub being developed by the Florida Department of Transportation.

Port of Miami
- The Port of Miami is among America's busiest ports and recognized throughout the world with the dual distinction of being the Cruise Capital of the World and the Cargo Gateway of the Americas.

Tri-Rail
- TRI-RAIL gets you where you want to go with convenient train services from Miami to Fort Lauderdale to Palm Beach.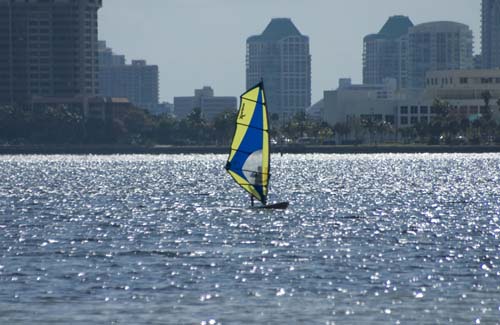 Key Biscayne Windsurfing - photo by
GMCVB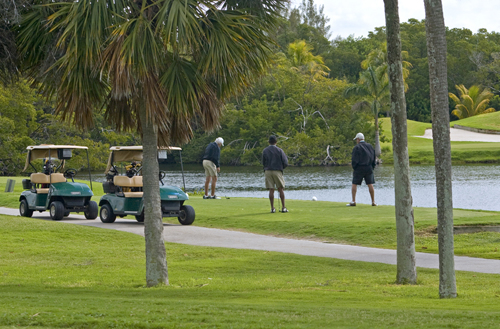 Key Biscayne Golf - photo by GMCVB