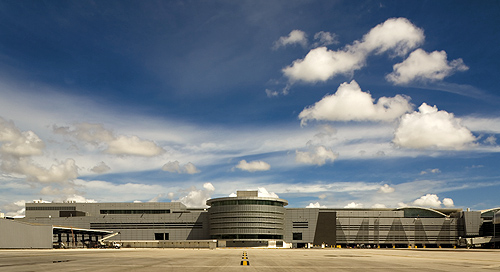 View of South Terminal from MIA's ramp area - Photo by Steven Brooke
The Airfield Operations Division of the Miami-Dade Aviation Department is divided into three different sections, Ramp Control, Aircraft Gate Control and Access Control. Each of these Airside sections, while being committed to a common goal, has its own responsibilities and a staff reporting to the Division Director, Airside Operations.
The three sections work collectively to promote the safe, secure, and efficient operating environment for passenger airlines, cargo airlines, a large General Aviation component, plus all their collective ramp employees, and support companies that serve MIA on the airfield.
Airside Operations is proud that every year MIA has passed its Annual Part 139 Inspection with either a zero (0) or with a minimal discrepancy rating.
Division Director, Airside Operations: Lonny Craven